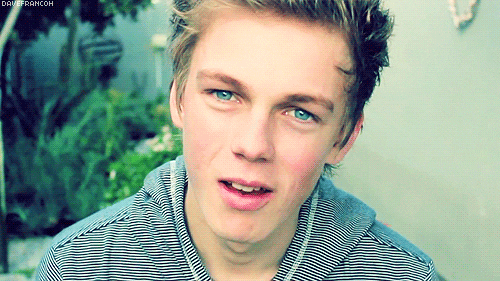 i swear i'll never be happy again
caspar was dancing in his cabin with his sisters. yeah, i said it. caspar was actually being social for once. you wouldn't expect it from him especially wearing a black tanktop, showing his slight muscle, and tan shorts that went down to his knees. normally at a party hosted by the aphrodite cabin, he'd be in the corner crying, but tonight, tonight caspar had a great feeling. he knew something great was bound to happen tonight.

he danced, moving backward as he danced. there wasn't anyone behind him at the moment so he thought, "eh, why not?" he moved backward slowly, but fast enough to be out of people's way, as long as they didn't bump into him. if they did, caspar would feel horrible, though. he wouldn't be like the regular kids in the cabin, he'd probably start crying and start repeatedly screaming that he was sorry at his bunk. that was just a normal day for caspar, though. a normal day in the life of a socially awkward demigod.
"Sweet merciful Zeus why did you bring me here..." his voice was lost to the sea of bodies moving to and fro from where they were standing. He stand in the middle of the room dragged out by his older brothers who insisted that Leon 'get some' or they would kick him out the cabin. He swallowed down the few chips he brought to keep him grounded and nodded his head and smiled at the winking Aphrodite girl who playfully bumped him before walking away.

"Dude you gotta dance." He didn't know where the voice came from, but it sounded as if it came from someone who was taller. He glanced around, but saw no one who was looking at him and raised his arms and...shaking them? He was not a lover nor was he a fighter so...Leon furrowed his eyebrows and decided not to think about it too much. He spun around as he heard a laugh and sighed in relief that it wasn't directed at him. As he started to feel more in tune with the music he began to move his hips and sway his body lightly and closed his eyes. A smile made it to his face and for once. For once he finally began having fun in this god forsaken place.

"There you go! Be cute with it!" He blushed as he heard the taller male's voice again and nodded along with the beat.

Leon flushed as he began to move through the crowd and laughed as the tall man's whistle. "T-thanks..." His voice came out breathelss and shy until he felt something shove him to the ground.

The party stopped instantly almost in one move as he found himself butt first on the floor. In his mind he could see himself getting up and taking on the person, but instead he shyly looked up and swallowed down the dryness that suddenly overcame his throat. Looking he saw him. The one he tried to look away from whenever he sat with his cabinmates at lunch or when they were training and he blushed so hard his sister saw. And that's saying something.

Caspar Lynn aka Beauty Boy of the Aphrodite cabin. Or the untouchable boy who he couldn't even talk to without messing up... He stuttered as he looked at the taller boy and just stared at him. Bright blue eyes that matched his outward personality and blonde hair that seemed to be careless yet professional. Leon barely stood up to his shoulder if they were to stand beside one another...even if Leon could not stop blushing and turning away shyly. His mouth opened in a soundless 'O'.

Before anyone could say a word he whispered a painful sorry and scrambled up and pushed his way through the crowd and outside the door. He didn't even here the muffled cries of the taller gentlemen who asked him not to leave.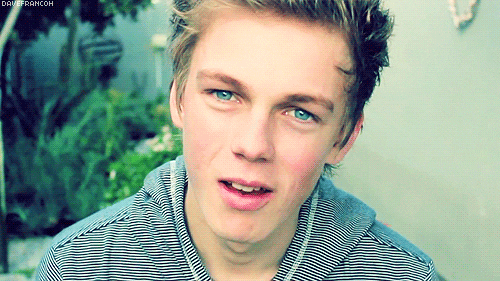 i swear i'll never be happy again
caspar looked down at the person he'd bumped into. wait. it was the kid that always glanced at him during lunch when caspar was laughing with his sisters. "o" was all caspar heard before he ran out. "don't worry caspar, that guy was just a nerd anyway." he sisters told him. caspar turned toward them. "what?" they said, smiling. caspar looked them straight in their devil looking eyes and said, "we prefer to be called geeks." and ran out of his cabin.

the kid was in the ares cabin. a son of ares that wasn't rude. who knew that could happen? caspar peeked through the door to see his bunk. he seemed to be turned away, but caspar knew it was him. he knew what he looked like because he'd always try to smile at him, but the boy always looked away and tried to make it seem like he hadn't looked, when it was obvious he had. he knew the boy's name. a lot of people said things about him and caspar always had to hold in his feelings towards others just to be cool. he just wanted to be normal. to be cool.

"l-leon?" caspar knocked on the door twice and stepped into the cabin. there was no one there because they were at the party. of course. he sat on the bunk across from him. "listen, i'm really sorry. it-it was my fault for being so stupid as to run into you, of all people. especially since i would only do that to people i don't like." caspar smiled, trying to make leon laugh. "i-i'm caspar, by the way. i'm a son of aphrodite." he held out his hand for leon to shake and waited for him to do so. "let's be friends. i may have been a very popular guy, but i'm going to drop all that for my one actual friend, if you accept." caspar smiled, this time wearing his lucky striped hoodie, which he tried hard to not let his sisters spray with their toxic perfume. "how about you and i go back to that party together and show them how real friends act?"
"W-what? You know my name?" His voice came out in a slow almost shy whisper as he looked at him. Tilting his head he stared at him in the eyes and smiled as he blinked back the tears that threatened to escape. He licked his upper lip and let out a choked laugh. "Gods, this night is crazy huh?"

Glancing down at his feet, he took a few moments to collect himself before he went back. He found it odd that Caspar would come over to check on him despite not even really knowing him. Leon breathed deeply through his mouth and swallowed back a bitter laugh. He could have a friend finally. Someone in this godforsaken place that actually wanted to talk to him that wasn't his brothers or sisters. (who he loved very much) A chill ran through his spine as a though crossed through his mind. What if it was a joke? What if Caspar finally caught on to his feelings and decided to toy with the girly boy from the Ares cabin.

He sat back up and looked at Caspar before sighing and smiling. No, he wouldn't do that. Someone as nice as Caspar? Leon didn't want to think the worst of a well intended apology.

"Uh, to be honest I really didn't want to party in the first place...D-do you want to hang out? I got some cheese and chips from the Hermes cabin if you want..."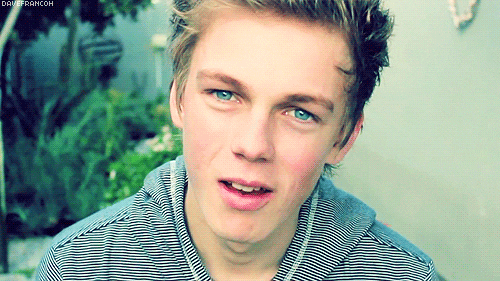 i swear i'll never be happy again
"of course i know your name. how couldn't i know your name? especially with my own sisters. plus, i see you at the mess hall a lot." caspar had stopped stuttering now. he finally had a friend that weren'this sisters. nobody knew about caspar, really. nobody knew he didn't like girls. nobody knew anything about caspar because they'd never wanted to actually be friends.

all the campers had ever wanted was for caspar to help set them up with someone with his 'charming looks' which caspar never really saw. until he looked at leon. leon had always seemed like a sweet guy to caspar. there was also the fact that caspar found leon cute. caspar always wanted to tell him this, but he'd never had the courage. now his plan was to slowly become friends and get to know him better. "alright." caspar said. "let's hang out and get to know each other better."
Leon grinned and turned to stare at him, wiping his eyes while turning to glance around the empty cabin. He stared at the mess of clothes that seemed to spill from every direction and the unmade beds despite their being a check the following morning. It was vastly different from his bed and area which were both clean and appealing to the eyes. He turned to Caspar with a shy grin and before he say anything else the door slammed open and he was left staring at his eldest brother's surprised face.

"Might wanna explain why you got a boy in here bro..." His eldest brother, Alec, raised an eyebrow at them, specifically at Caspar, and stood by the door with his arms crossed. "Look, Leon if this is about the party I know it sucked, but..."

"It isn't...This is a friend! This is Caspar Lynn and he just wanted to talk...that's all." Leon smiled at Alec who sighed and raised up his hands in surrender and glared at Caspar.

"Whatever, but I will be watching alright?" With that Alec leisurely walked to his bed and nodded to Leon and Caspar before lying down and turning on his side facing away from them.

Leon blushed and glanced apologetically at Caspar before grabbing his hand and leading him out of the cabin towards the camp fire that burned in the middle of the camp. Once they were far enough from the Ares cabin he sat down at one of the benches and stared at the passing campers who were either chatting or eating.

"Sorry about that. Alec gets a little...protective over all of us sometimes....What were you saying?"
X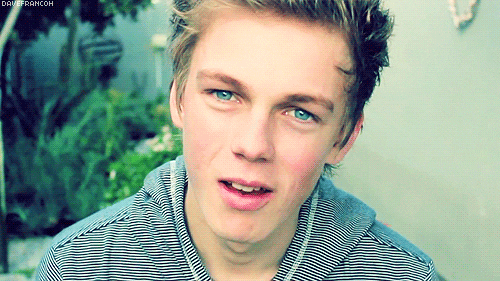 i swear i'll never be happy again
"i'll go first, then." caspar said once they got to the fire. "there are things in here that people don't know, so please don't tell anyone." caspar took a breath. "if we're friends, i should tell you. i'm caspar lynn, son of aphrodite. i have no parents since my father died of lung cancer when i was 10, i've never had a friend that wasn't my sister, and i-" caspar paused for a moment looking up at leon. "i'm gay. no one knows anything about me, really. that's really all there is, though. i'm normally shy, but i have a friend now. i hope this 'stabbing in the back' thing isn't literal." caspar looked into leon's eyes, noticing how beautiful they were. he'd told him all this because- well, because caspar had a crush on leon. there, he said it. not in the way of using someone like his sisters did. he truly believed that leon was the one. the one. caspar didn't think that leon liked him back, though. all caspar had was a plan.
Leon was sure his mouth was open by the time Caspar was done. He closed his mouth with a snap and let it sink in slowly not trusting himself to say anything stupid around him. The joy and happiness he was feeling was beyond all that he could hope he could feel and all that was showing was a the bright blush that showed on his face. He bit the bottom of his lip and clenched his fist beside his side. He could say it right now. Say it and get it over with and not have to live with the secret anymore.

He blinked before opening his mouth and closing it once again not knowing quite what to say. Sighing to himself he turned towards Caspar and scratched the back of his neck. "I'm glad you came out Caspar. I won't tell anybody if you don't want me too." The words seemed hollow to him and generic, but he continued. "Well, My name is Leon Harrison and I...I'm kind of the weird kid of the Ares cabin if you want the truth. I don't fight or like fighting, I'm shy, a pipsqueak compared to you or my brothers, and I like to create things like flowers instead of destroy things. I'm gay as well if that helps, I don't know. I'm just new to this whole...friend thing after what happened." He shivered as he remembered the memory of crushing fangs and blood.

He hoped it wasn't noticeable. A thought creeped into his head and he tensed suddenly. Even if he told Caspar about his feelings, what good would that be for Caspar? To be stuck with some kid who was emotionally scarred from his first monster fight and the fact that he was one of the weakest people at camp didn't help either. He would only ruin Caspar in the process of loving and...Leon didn't go on thinking after that. Instead he smiled sadly and tried not to walk away to his bed.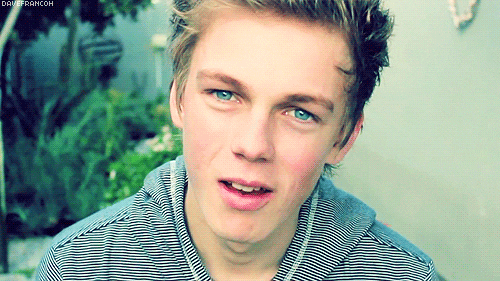 i swear i'll never be happy again
caspar looked down sadly when leon didn't say anything for about thirty seconds. once he said something, happiness surged through caspar's body. he wanted to spill everything. he wanted to kiss leon forever, but he couldn't. although he was about to, his sisters walked up right when caspar was leaning in. it was obvious that he was about to make his move on leon, though.

"caspar, you're gay?!" one of his sister's shouted.
"n-no. i mean- well-" one of his sister's tried to pull him away, but caspar pulled his arm out. "you know what? there's something going on here that none of you would understand. i may not know this boy, i may have never noticed him much, but you know what, i like him. i like him a lot. if you have a problem with me being gay, then take it back to our cabin and discuss it while you eat chocolate with no makeup on and cry over boys and talk about it, because we don't need your sh!t here. leon and i," caspar looked back at leon and smiled. "i want to talk to leon. alone." he looked back at his sisters. "so right now, i'm kindly asking you to back the f*ck off before i spill all your little secrets." the girls had their mouths wide open. this was all apart of caspar's plan, though. he knew they'd be looking. he knew exactly when to time it right for coming out. he knew when he was about to kiss leon, they'd show up. they ran off, laughing with each other, looking back at him in disgust.

caspar looked at leon and sat down. "sorry about that, it was just a normal day with the aphrodite cabin." caspar said, his english accent poking out more than usual. "where were we, leon?" caspar asked, smiling and looking deep into leon's eyes.
"I-I was saying that I-" Before Leon could say anything more, he heard his name being called. He looked back at his cabin and saw the distinct figure of his brother standing there shouting his name saying that it was time to go to bed. Leon's heart sank as he glanced apologetically at Caspar before calling back, "I-I'll be there in a minute!"

Sighing he turned towards Caspar and seemed to just stare. His mother always said not to stare at someone unless they permitted it, but he coulnd't help himself. Caspar was so strong, defiant, and full of life. He was everything that Leon wasn't and he wished with all his heart that he didn't have such strong feelings for him. Blinking he turned his eyes away towards the fire and licked his lips. It wasn't a secret to himself that he wanted to kiss Caspar...he could if he wanted to though..

"Well, I'll see you tomorrow...? I-I had a great time Caspar, thanks." Without a word he leaned in and pressed his lips against his cheek. After the kiss he leaned back slowly, his blush brighter than before and quickly made his way back towards his cabin before laying back in his bed not bothering to change cloths.

Without a word he turned to side as the lights went off and hugged his pillow before drifting off to sleep.
OOC: Delivery for Kris:
High Queen of Narnia







Number of posts

: 15718


Registration date :

2011-12-31




________________

---
Permissions in this forum:
You
cannot
reply to topics in this forum