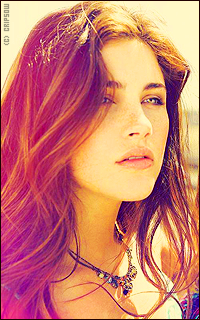 Name: Lakisha Deirdre Cohen-Bellamy.
Short: Lakisha Bellamy.
Age: 18
Gender: Female
Eyes: Mismatched, one blue, one green.
Hair: Thick, dark auburn shade.
Height: 1m85.
Body Type: Lean, athletic.
Skin Color: Very pale.
God Parent: Khione, goddess of snow and winter sports.
Family:
→ Father:
→ Grandfather:
Country of Origin:
Pets: A pet lynx named Salomo.
Talents:
Weapon**: Chrymos, a plastic ice pick (the like you can find in a mountain tourists shop), which turns either into a dagger or into a bow and arrows, blades celestial bronze.
Appearance:
→ Tall.
→ Willowy, svelte.
→ Thick auburn hair, down to mid-back.
→ Mismatched eyes. Slanted auburn eyebrows.
→ High cheekbones.
→ Pointed chin, angular jaw, thin face.
→ Thin lips.
→ Very pale skin.
→ Long, shapely legs.
→ Very little curves.
→ Long neck, slim shoulders.
Personality:
→ Lakisha often gets flashes of anger or euphoria.
→ She gets countersocial impulses
→ She feels superior to others who aren't part of her "crew".
Flaws:
Abilities (must relate to god parent; optional):
Powers (must relate to god parent; optional):
Life Before Camp*:
Any notes about your characters:
→ There are references to
Specials
, Scott Westerfeld.
High Queen of Narnia







Number of posts

: 15610


Registration date :

2011-12-31




________________

---
Permissions in this forum:
You
cannot
reply to topics in this forum